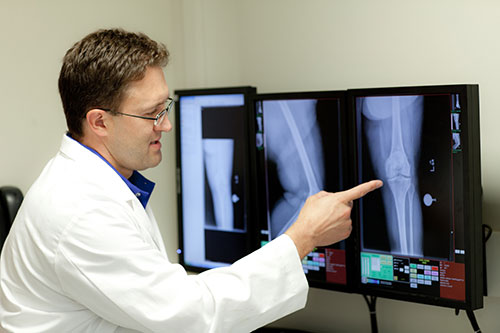 When knee pain starts to impact your daily activities, such as walking, driving, standing, playing golf or enjoying your grandchildren, we can help. The South Carolina Joint Center offers a comprehensive, integrated approach designed to minimize pain and restore your quality of life to the maximum extent possible when you have total knee replacement.
When nonsurgical treatment for knee pain - like injections, medication and therapy - is unsuccessful, it is time to see a knee specialist.
If the knee is irreparably damaged or has eroded away because of arthritis, then knee surgery may be the next logical step. Statistically, 20% of knee patients will require some type of knee surgery.
While knee surgery may be a scary, today more than ever, people are recovering from knee surgery and regaining movement and the ability to walk, run and play their favorite sports like golf, tennis and skiing.
Take, for instance, tennis player Seffi Graf who won both the French Open and Wimbledon following knee surgery. Even more astonishingly, pro tennis player Richard Krajicek recovered from knee surgery after only three months and went on to beat world champion Pete Sampras in straight sets in 1998. More recently, Roger Federer in 2021 underwent his third knee surgery - the price to pay for winning a record 18 major wins in Men's tennis singles.
Depending on what part of the knee is actually damaged, a knee specialist may recommend that knee surgery be delayed. To highlight an extreme example, in the 1999 Stanley Cup Championships, Dallas Star hockey player Brett Hull played three periods during the final game and then played three more periods of overtime all with a grade 3 torn meniscus - the most severe level of an MCL tear.
Although probably not the most healthy decision for his knee, playing on a torn MCL is a sacrifice he was more than willing to make at the highlight of his career as the Stars brought home the Stanley Cup that year. He subsequently had knee surgery to repair his MCL. While most of us have no reason to push ourselves to this sort of an extreme, this illustrates, that surgery for even the most severe injuries can be postponed in some cases.
Essentially, when surgery is done well and the recovery period is carefully and thoroughly completed, return to athletic activity is more than likely not a problem. Below are some specifics regarding knee surgeries:
Arthoscopic Knee Surgery
Most knee surgery to treat torn ligaments is now done through tiny incisions using an arthroscope, rather than a large incision. The smaller incisions provide less disruption to tissues and faster recovery. By accessing the knee with an instrument the width of a ballpoint pen, there is less disruption to the joint and its ligaments. The instrument can be used to repair a torn meniscus or other knee problems.
However, the AAOS believes arthroscopic surgery of the knee to be ineffective against knee osteoarthritis symptoms from a degenerative joint surface. Typically, many patients with arthritic knee may have to ultimately consider knee joint replacement.
Knee Replacement Surgery
Quality of life is never to be underestimated and when a knee problem is so debilitating that it is impossible to enjoy hobbies that are important to you like gardening or playing with your children or grandchildren, than it is crucial to seek medical help.
Fortunately, before even considering knee replacement surgery as an option, generally physicians will try to find other ways of relieving knee pain. For instance, physical therapy, medications, orthotic, knee sleeves and walking aids might be the answer to many knee pain problems including those stemming from arthritis.
However, when other treatments prove to be futile, knee replacement surgery is an option. Each year in the U.S. over 600,000 knee surgeries are performed each year, according to the U.S. Government Agency for Healthcare Research and Quality. It is estimated that this number in will increase over the next 10 years with the aging Baby Boomers.
Knee replacement surgery can be a godsend to those with painful knees as it renews the person's ability to walk, golf, play tennis and all their other favorite activities.
Who is a Candidate for Knee Replacement Surgery?
Knee replacement is a procedure generally reserved for those who are over 60 years of age who are in relatively good health, aside from their knee pain. In fact, 72 percent of knee replacements are done on those over the age of 65. Generally, this means, they maintain a healthy weight, they do not suffer from cardiovascular problems, and they are not suffering from a terminal illness.
Active knee replacement candidates will find it comforting to know that they will be able to resume some athletics following surgery such as golf, swimming, and walking. Some knee replacement surgery recipients have even continued to play tennis and snow ski. Unfortunately, a knee prosthesis is not quite as effective as a healthy, natural knee, however it will be a great improvement over the preoperative pain and discomfort.
Who is not a candidate for knee replacement surgery?
To receive knee replacement surgery, you must be a good candidate. If not, surgery could prove counterproductive. For some, knee replacement surgery is not in their best interest.
Those who are too young, with the exception of those who suffer from severe rheumatoid arthritis, should consider other types of treatment for knee pain since the artificial knee joint may need to be replaced after they have reached full growth. Unfortunately, the bone will need to be cut short to make room for the new knee joint and function and mobility is likely to be damaged during the second operation.
Those who are overweight are also not good candidates for knee replacement surgery as the natural knee is NOT designed to carry a 300 pound object. Too much weight on the artificial joint can cause it to be damaged which can cause subsequent knee problems and additional knee replacement surgeries.
Those with cardiovascular problems and with terminal illnesses are also not good candidates as the surgery may be too much for the body to handle. Also those with poor skin coverage over the knee are not good candidates as surgery could impair movement of the knee.
How is knee replacement surgery done?
During knee replacement surgery, the patient is under general anesthesia and unconscious. The knee replacement surgery usually lasts a couple hours. The knee joint is opened up and the kneecap is moved out of the way. Doctors then, shave off the bottom of the femur and the top of the tibia and fibula bones.
Because knee replacement surgery is becoming commonplace, more knee replacement surgeries are now being done in an Ambulatory Surgery Center (ASC). These patients go home later the same day to recover in the comfort of their own home.
After the hospital stay, the patient will probably require the aid of a walker for a few days before putting full weight on the leg. Overall, full recovery can take anywhere from two months to a half year.
The future of knee joint replacement surgery
Scientists are currently in the process of developing joint replacement methods that will last much longer than the current prototype. While doctors now use a glue to bind the old bone with the new implant, they one day hope to use ceramics as a bone substitute.
When a bone breaks in the body, the bone cells will form together to rejoin the broken bone. In the same way, bone cells can join with coral or ceramics forming one, continuous bone. While recovery may take longer initially, the effects of surgery will last much longer than current replacement methods.
Mako robotic knee replacement surgery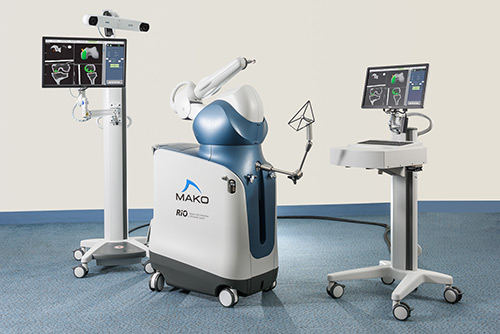 There have been many advances in the operating room over the past 10 years. There are new 3D surgical navigation systems that assist the surgeon in complex surgery. Other new devices like the Mako Robotic system enables the surgeon to provide a highly customized approach to knee replacement.
First, a CT scan of the diseased knee joint is taken. This CT scan is uploaded into the Mako System software, where a 3D model of the knee is created. This 3D model is then used to pre-plan and assist the knee specialist in performing your total knee replacement.
The Mako Robotic-Arm Assisted Technology & Surgery can improve the accuracy of both hip replacement surgery and knee replacement surgery.
It's important to understand that in this system the robotic-arm does NOT make decisions on its own or ever move without the surgeon guiding the robotic-arm. The term "robot" can be misleading. Instead, the system is more related to computer guidance for the purpose of more precise alignment and positioning of the artificial joint, and sparing as much healthy bone as possible.
Prior to surgery, a CT scan of the hip or knee joint is taken to generate a 3D virtual model of the patient's unique anatomy. The 3D model helps the doctor see areas they can't typically see with an x-ray alone. This additional information helps your doctor determine the optimal size, placement and positioning of the implant or removal of bone and cartilage. This system helps preserve as much healthy bone as possible.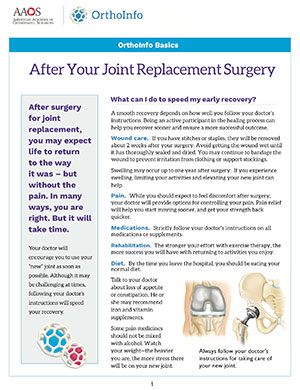 Learn more about life
after joint replacement surgery
The surgeon guides Mako's robotic arm to remove the arthritic bone and cartilage from the joint. The Mako robotic-arm guides the implant at the specific angle ensuring the proper placement and alignment of the implant.
For example, recently the Hip and Knee Society published a paper recently comparing the 90-day episode of care cost with patients receiving a Mako total knee replacement versus conventional knee surgery. Overall, the study determined that Mako robotic assisted surgery patients had a cost of care per episode that was $2,391 less than conventional knee replacement.
Additionally, fewer Mako robotic surgery patients needed to be discharged to nursing facilities. Mako Robotic Surgery 33% fewer patients also had a 90-day readmission rate from problems, which shows the effectiveness of the computerized joint replacement technology. Click here for more information.
Click here to learn more about getting ready for joint replacement.