Another part of our rehabilitation team is our Hand Therapy Program, staffed by our group of caring, skilled Certified Hand Therapist, Occupational Therapists, and Occupational Therapy Assistants. Our Hand Therapists work closely with your hand surgeons to help patients achieve greater freedom through the use of therapeutic rehabilitation specifically focused on the daily functions and activities of a patient's life, including: occupation, lifestyle, and environment.
Our highly experienced therapists then design a customized treatment program with unique hand therapy exercises to help you restore normal hand function for work, daily living, and recreation.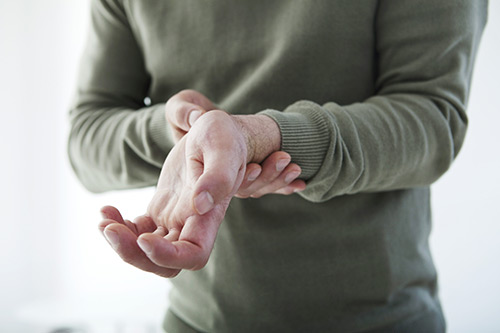 Our Hand Therapy Program addresses the following hand, wrist, and elbow injuries, disorders and post-operative care:
Fractures
Custom Splinting
Crush Injuries
Severed Tendons
Nerve Injuries
Scarring
Amputation
Burns
Joint Replacement
Arthritis
Overuse Injuries
Neurological Conditions
People value the use of their hands and any loss of function through injury or accident may have a devastating effect on their lives. Anyone with an injury wants the very best treatment to assure maximal recovery.
During your therapy, your treatment may include:
Management of open or sutured wounds to prevent infection and assist healing.
Exercise programs to increase motion, dexterity and/or strength.
Treatment to assist in the reduction of swelling.
Splint fabrication for prevention or corrections of injury.
Control of hypertrophic (raised and/or swollen) or hypersensitive scars.
Management of acute or chronic pain.
Training in the performance of daily life skills through adapted methods and equipment.
Conditioning prior to returning to work.